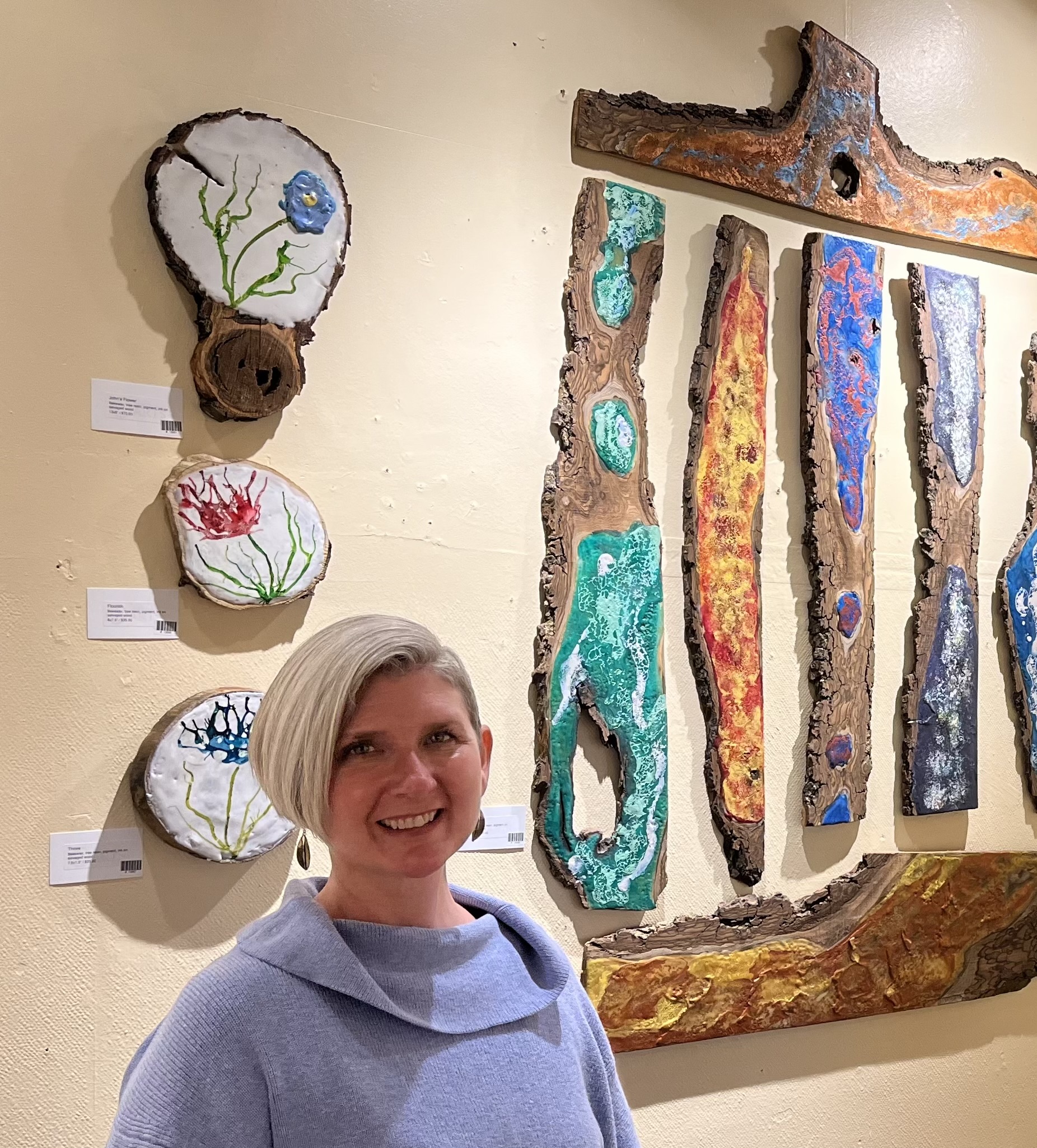 Hi! I am Beth Sievers (she/her)- artist, mom, allergy friendly cook, ingredient reader, nurse, wife, LGTQIA+ ally
I've always loved creating art and crafting (I did a lot of decoupaging in middle school). In 2003, I started in stained glass and transitioned to encaustic in 2008. I remember the first time I saw an encaustic painting, it was online, and I immediately fell in love. My husband found a weekend class at Crossings at Carnegie for us to attend, and it has snowballed from there for me. In 2016, I decided to start showing my work publicly. At this time, I started working almost exclusively on salvaged wood. My husband has worked at landfills and recycling centers, and we have seen first-hand the amount of garbage that is created by people throwing out perfectly usable items (we have several salvaged items in our home).  My good friend, Joel DesLauriers, of Wood & Knots by Alloro Inc., was getting into wood working around this time and allowed me to dig through his burn pile of cast offs. I also started foraging through cabinet company's dumpsters and at the local public utility company for cast off wood. Over time, locals have started reaching out when they find wood that they think I might be interested in. Not only does using salvaged wood help keep my prices lower, it also benefits the environment.
My formal education was in nursing. I graduated from Mount Mercy University with my BSN and went on to get a Masters of Nursing from Winona State University. I moved to Rochester in 2000 to pursue a career at Mayo Clinic Hospital Rochester. I have worked as a staff nurse and Clinical Nurse Specialist (CNS). Healing is central to my life. Creating art heals me and I believe having original art in your home helps create an environment of healing for the owner as well.
When my youngest was 5 years old, we finally figured out that she couldn't tolerate a lot of foods and needed to switch her to almost a paleo diet. This was a huge learning curve for me when cooking meals for our family. I had so many failed attempts but feel like our whole family has benefited from this change. This has led me to read the labels on everything- food, skin care, makeup, sunscreen, household cleaners, etc. and am always on a quest to find the cleanest products for my family. I like that encaustic painting uses natural products like wood, beeswax, and tree resin in order to create beautiful art.
My husband and I met when we were 12 years old in Middle School band class, he played trombone and I played clarinet. We started dating when we were 16 years old, dated through college.  I attended Mount Mercy University and he attended University of Northern Iowa.  We married when we were 23 and started having kids at 30. We have two daughters, Eleanor and Abigail (aka The First Ladies), and I am extremely proud of the creative family that we have built. See what they are up to by clicking the links below.
John
https://www.facebook.com/thedsievers
https://www.facebook.com/LoudMouthBrass
https://www.facebook.com/afterschoolspecialmn
Eleanor
Barricade Murals in Rochester, MN
Abigail
Rochester Pride Logo Competition
Post Bulletin (Rochester, MN newspaper) Sievers Family Stories
A geocaching quest with the Sievers
Ding, Dong Merrily We'll Try: The Sievers Meet the Salvation Army
The Sievers family gets, like, totally tubular
The Sievers family goes to Great Wolf Lodge
Paint-your-own pottery, pandemic-style
Slip on some snowshoes and explore Quarry Hill
A date for $28 -- five hours of romance and fun on a shoestring budget
Tubing in Rochester: You'll need a tube, a route, a towel, and probably a rideshare app
Say it AND spray it at Lucid Paints
Good Earth Village an "exciting place that nurtures inner peace"